I receive many questions about the painting supports I use as many people are only familiar with acrylic paintings on canvas. As a new artist I was frustrated with this assumption so I went in search of alternatives. I would love to share my experience and the knowledge I have learnt along the way!
Six years ago when I started painting with acrylics, I was under the same impression as most that canvas was my only viable option. I was frustrated with the texture of canvas – I was fighting against it trying to blend and get small details. There are techniques that exist to completely smooth a canvas but I find the solutions to be much too time consuming and labor intensive to want to commit myself. I also had a constant fear of ruining my painting by leaning my arm too heavily on the canvas and causing it to warp. This began my journey to find other painting surfaces.
PAPER
My painting journey began with watercolors – this beginning shaped much of my style with acrylics. My watercolor painting were all painted on paper therefore provided a natural place to start experimenting with acrylics .
The first acrylic paintings I completed were done on black 250 GSM Cold Press paper with a light texture. Prepping for an acrylic painting on paper follows much the same concepts as if you were doing a watercolor painting including taping the paper to a board to prevent warping as well as being cautious with excessive puddling of water. An example of this painting support is the below painting – In the Shadows was painted on paper in 2014.
Pros
Inexpensive which can be great for learning artists that are experimenting and learning the medium

Can start with a colored background to avoid the daunting start of a clean white surface

Easy to make custom sizes

Lightweight & easy to ship
Readily available at any art supply store
Cons
Can warp and bubble if you are using too much water or had not properly prepared the paper before painting

Needs framing which can be costly especially if you are using a non-standard size
Watercolor paper typically has a slight texture that can affect the look of the final painting
MDF & PLYWOOD
Although I enjoyed the experience of painting on paper I realized there were even better option out there that I had not explored. I had been following along with Alyssa Mees on Instagram and was introduced to the idea of painting on wood – particularly plywood and MDF.
The wood I used for my first experiments was 3/4″ or 1/2″ G1S plywood. I found these boards at my local hardware store and recruited some family to help prepare them for paintings. Below is an example of one of these paintings.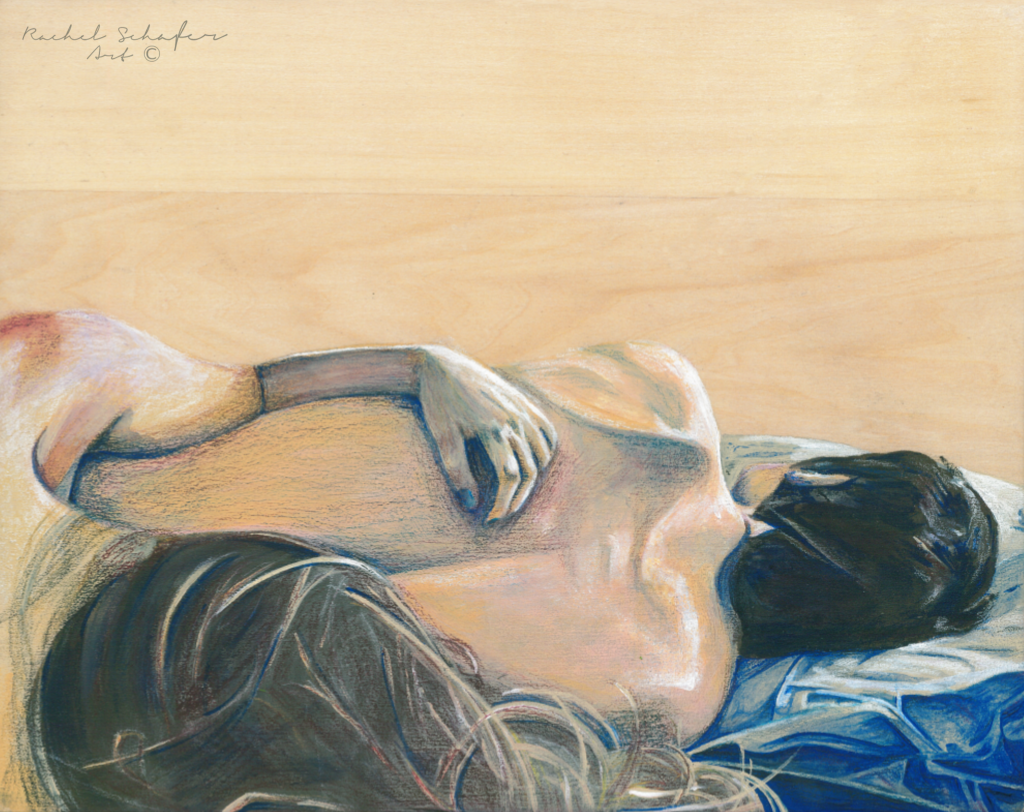 PROS
Inexpensive – you can buy a large sheet of wood to cut into several painting supports
Can customize the size and shape with the right tools
Smooth surface with some slight prep work
No concern about warping
Can leave wood grain visible for an added visual option
CONS
Need access to power tools to cut down to size
Needs somewhat extensive prep in order to be ready to paint on including cutting, sanding & priming/ gesso
Can become heavy when working on larger sizes and therefore difficult to ship or hang
MOUNTED WOOD PANELS
I painted several of my early paintings on plywood before I discovered my current go-to favorite painting support – mounted wood panels. These panels are made of 1/8″ birch which are mounted on a cradle to create a raised surface with wooden sides. I purchase these locally but are available at most major art supply stores – like these.
I found many of the same appealing traits as I had found with the plywood and MDF, however these were more easily available, required significantly less prep work and hassling of woodworking family members as well as them having an added professional presentation. Below is one of my first paintings using the mounted wood panels.

PROS
Reasonably inexpensive
No need to frame
Readily available in many sizes
Light weight
Simple to prep and get ready for painting
Perfectly smooth surface
Rigid surface so no concern about warping
CONS
I'll update if I come across any ?
This list just scrapes the surface of the options available to acrylic painters however I think the most important thing to remember is to keep an open mind and experiment. Something that might work for one painter may not work for another. Different surfaces